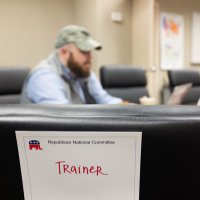 Nick Trainer (@NicholasTrainer)
11073 posts 6766 followers 500 followings
Director of Battleground Strategy @RealDonaldTrump | Formerly - @WhiteHouse @GOP @GovernorPerry @TimPawlenty @SenToomey | PA, yinz/youse guys. Always PA.
Another day in paradise, okay?
2009-03-31 00:16:46
©Twianon | Best Twitter online viewer | About Us
This site uses the Twitter API but is not endorsed or certified by Twitter. All Twitter logos and trademarks displayed on this applicatioin are property of Twitter.