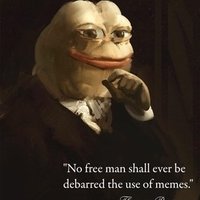 Willa (@WillaVanilla93)
14493 posts 107 followers 131 followings
Proud American, only made this to follow Trump and other important or interesting figures. If that makes me a bot, neato. Love the salty responses, keep it up.
2016-07-08 01:38:08
©Twianon | Best Twitter online viewer | About Us
This site uses the Twitter API but is not endorsed or certified by Twitter. All Twitter logos and trademarks displayed on this applicatioin are property of Twitter.